When:
31. March 2023 @ 17:00
2023-03-31T17:00:00+02:00
2023-03-31T17:15:00+02:00
Where:
Cinetech Kino Gronau
Mühlenmathe 37
48599 Gronau (Westfalen)
Deutschland

Contact:
Jazzfest Gronau / Cinetech Gronau / Fotograf: Hartmut Springer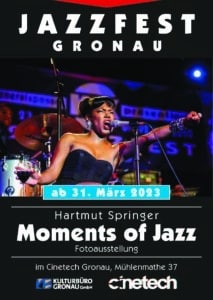 Zur Vernissage am Freitag, den 31. März 2023 um 17:00 Uhr lädt das Cinetech herzlich ein, Hartmut Springer wird dabei nicht nur seine Werke präsentieren, sondern auch für die musikalische Untermalung an der Gitarre sorgen.
Moments of Jazz
Fotoausstellung zum Jazzfest von Hartmut Springer
Sängerin China Moses sitzt auf der Bühne – mit geballter Faust, in der anderen Hand ein Glas Rotwein. Das Bild sprüht nur so vor Kraft und Lebensfreude und zeigt nur einen von vielen besonderen Jazzfestmomenten, die Fotograf Hartmut Springer mit seiner Kamera eingefangen hat.
Anlässlich des 35. Jazzfestes präsentiert das Cinetech Gronau in Kooperation mit dem Kulturbüro ab dem 31. März 2023 die Fotoausstellung "Moments of Jazz" in der Galerie im Cinetech Gronau. Gezeigt wird eine Auswahl von phänomenalen Konzertmomenten, die der Fotograf für die Ewigkeit festgehalten hat.
Hartmut Springer fotografiert seit 18 Jahren für das Jazzfest. In der Branche ist Springer bereits seit fast 50 Jahre tätig und man merkt schnell, dass er sein Handwerk versteht. Ihm gelingt es auf besondere Art, die Stimmung und Atmosphäre eines Konzertes vor und hinter der Bühne einzufangen und in seinen Bildern aufleben zu lassen.
Dabei sind ihm schon zahlreiche Künstler von Al Jarreau und Randy Crawford bis hin zu Amy MacDonald oder Johannes Oerding vor die Linse gekommen. Ausdruck und Haltung sowie Emotion und Leidenschaft der Künstler, wie sie sonst nur bei einem Live-Konzert zu erfahren sind, verewigt Springer in seinen Fotografien.
Die "Moments of Jazz" – Fotoausstellung kann zu den regulären Öffnungszeiten des Cinetech kostenlos besichtigt werden.