In Gronau there are a lot of possibilities to spend your free time in or on the water.
With its large green areas and its many sunbeds, the Gronau outdoor park pool is a true vacation spot for young and old. Lie in the sun and relax or take the water slide into the cool water. Afterwards a little refreshment in the Badcafé Sprungbrett and the excursion is perfect.
The Bültenfreibad Epe offers enough space for many visitors, both in the pool and on the lawn. As one of a few pools, 50-meter lanes can be swum here. But children also get their money's worth thanks to diving towers, sandbox and much more.
Water fun in any weather is guaranteed at the indoor pool in Gronau. In the colder months, this is the ideal place to take a few laps in the warm water, relax or have fun with your friends. Thanks to different pools, a slide, a café and much more, everyone gets their money's worth here.
The Dreiländersee offers a lot of possibilities: Walking, swimming, playing miniature golf or sailing. Here is something suitable for everyone.
During the summer months, the water maze opens on the Inselpark grounds. With its numerous water features, it not only offers refreshment, but becomes a real experience. Because in many areas of the labyrinth, water fountains rise from the ground in a changing, i.e. unpredictable rhythm.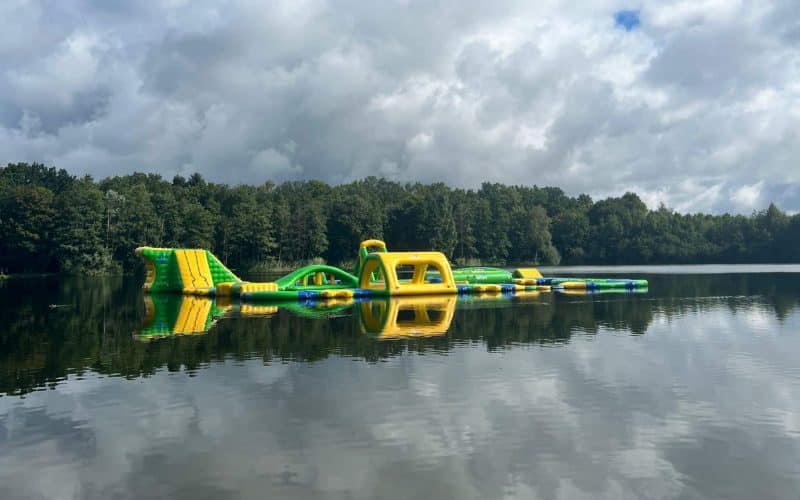 On the water park Gronau at the Dreiländersee your sportive skills are in demand. Overcome the different inflatable obstacles and enjoy cooling off in the water.